SAXON : Paris, Trianon, 14/11/16
Très joli package hier soir au Trianon puisque Saxon proposait pour ses deux premières parties Girlschool et Last In Line. Prévu initialement pour 20:00, le concert est finalement avancé à 19:00 du moins pour Girlschool qui, lorsque j'arrive, après avoir récupéré ma fille qui m'attendait devant la salle, a déjà investi la belle scène du Trianon.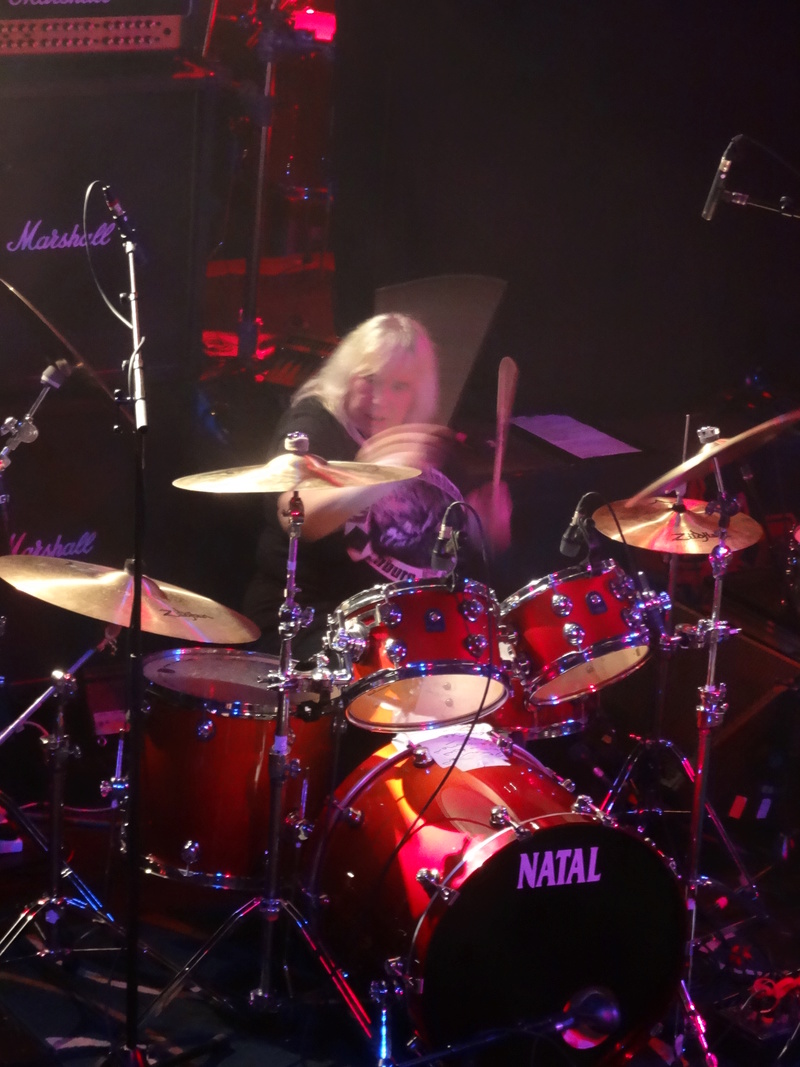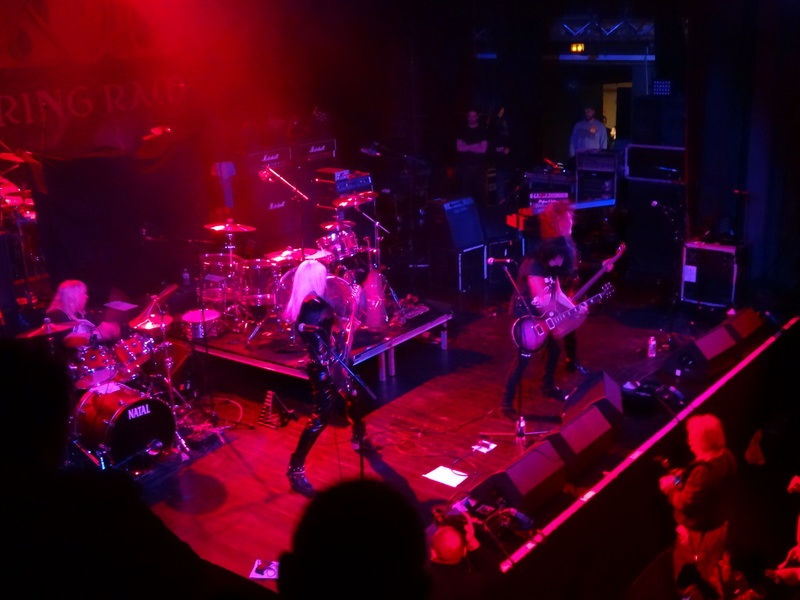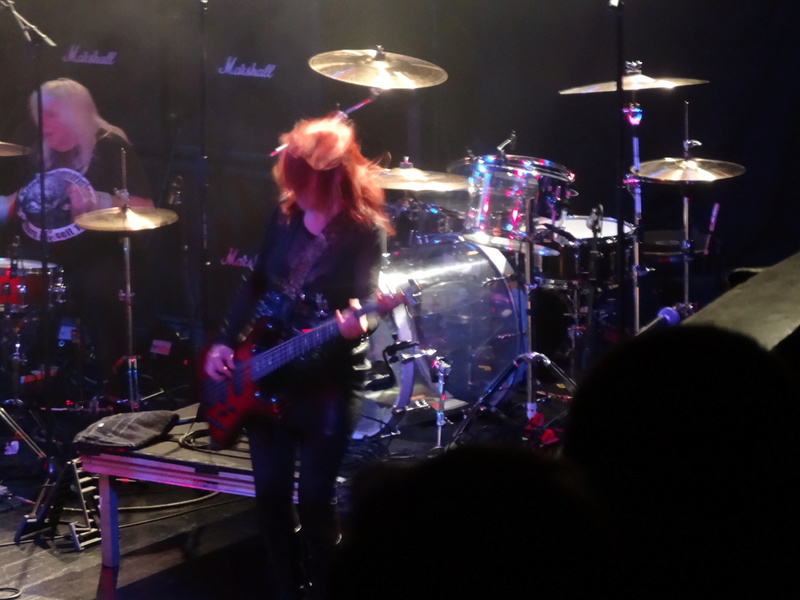 Les filles alignent sur ce set de première partie leurs plus grands standards avec une énergie non dissimulée. Bien sûr, Kelly Johnson n'est plus là, partie vers d'autres cieux le 15 juillet 2007 mais sa remplaçante Jackie Chambers, présente dans le groupe depuis 2000, nous gratifie de soli très inspirés tandis que Kim McAuliffe et Enid Williams se partagent le chant. Le son est absolument nickel et les lights sont magnifiques comparés à ce que j'avais vu pour le tout dernier concert de Blues Pills au même endroit. Léa, ma fille qui ne connaissait pas Girlschool, est ravie (sans doute par solidarité féminine) est ravie.
"-Dis, Papa, tu m'feras écouter ça, un de ces quatre ?
-Pas de souci, ma chérie, répondis-je."
Setlist
   Demolition Boys
   Kick It Down
   Hit and Run
   I Spy 
   Come the Revolution
   Take It Like a Band
   Future Flash
   Watch Your Step
   Yeah Right
   Race with the Devil
   (The Gun cover)
   Emergency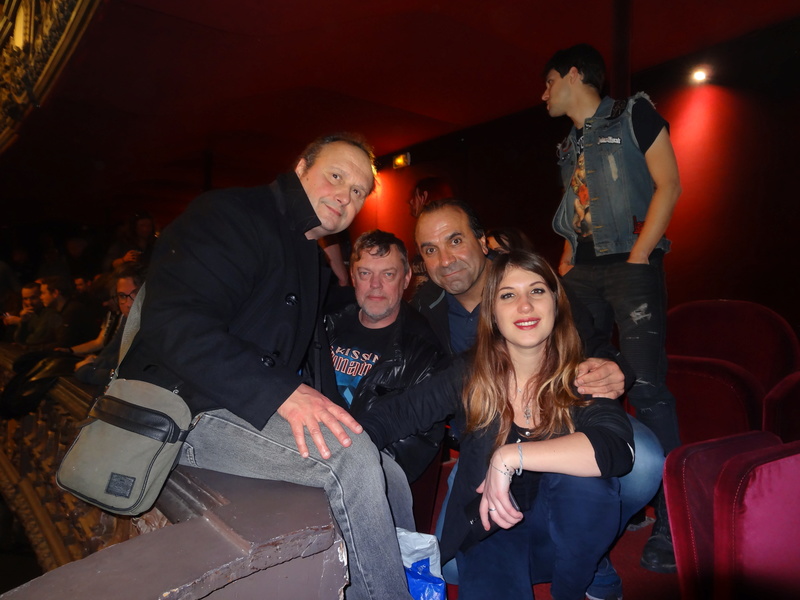 Moi, François27, Ponpon et Léa
Photo prise à l'issue du concert de Girlschool.
Une petite vingtaine de minutes plus tard, c'est au tour de Last In Line de fouler les planches du Trianon. Le groupe est composé de Vivian Campbell à la guitare que je n'avais pas vu depuis 2011 lorsqu'il se trouvait depuis 2011 sinon ça remontait à 1984 lorsqu'il avait participé au Breaking Sound Festival du Bourget avec Dio, Vinny Appice à la batterie (ex-Black Sabbath, Dio et Heaven & Hell), Phil Soussan à la basse (Ozzy Osbourne, Billy Idol et Vince Neil), Eric Norlander aux keyboards et donc Andrew Freeman. Débutant sur un endiablé Stand Up And Shout qui met tout le monde d'entrée de jeu d'accord, le quintet ne se fait pas prier pour enchainer les classiques intemporels que sont Holy Diver, The Last In Line et Rainbow In The Dark qui sont interprétés avec classe. Le sieur Campbell est vraiment toujours au top en termes de soli et l'on sent que cette échappée de la "multinationale" Def Leppard lui fait un bien fou. Freeman est doté d'une voix puissante, un peu criarde et moins lyrique que celle du regretté Ronnie. Cependant, il remplit bien la fonction qui est la sienne. Phil Soussan et Vinny Appice (un des fidèles compagnons de Dio) tiennent particulièrement bien la section rythmique.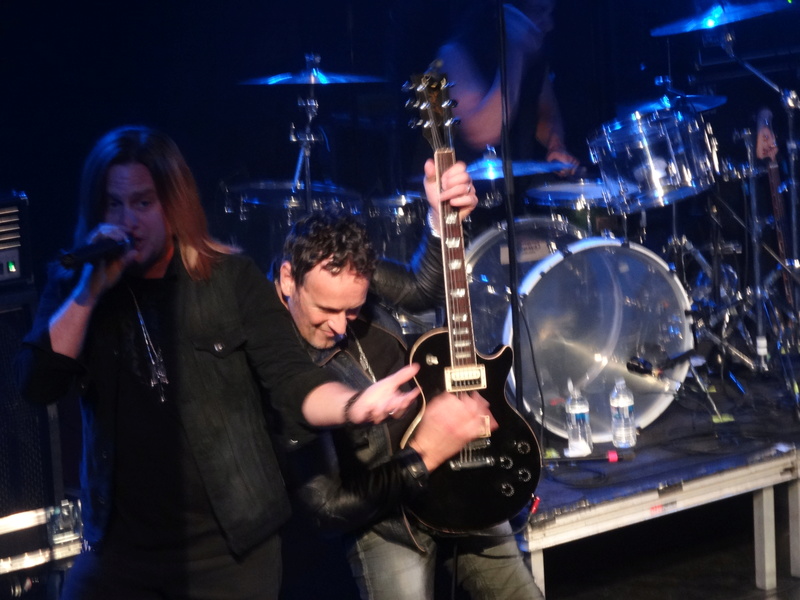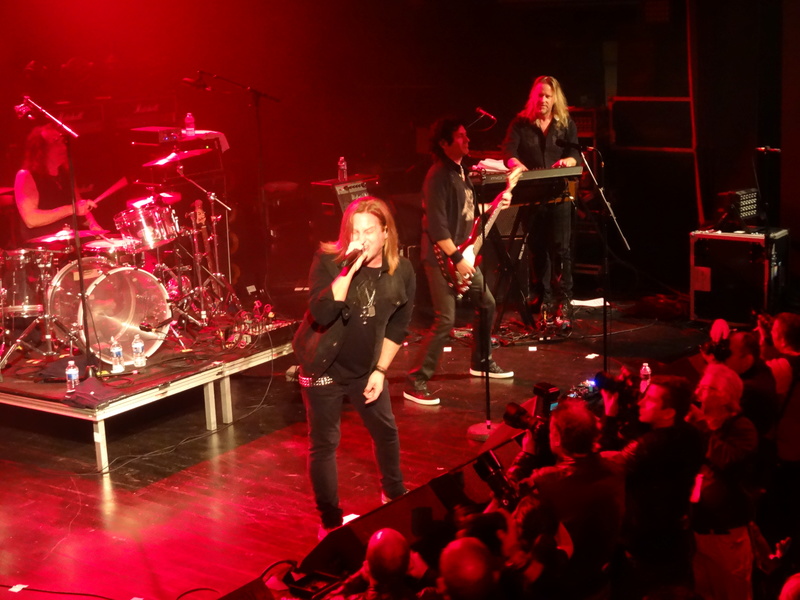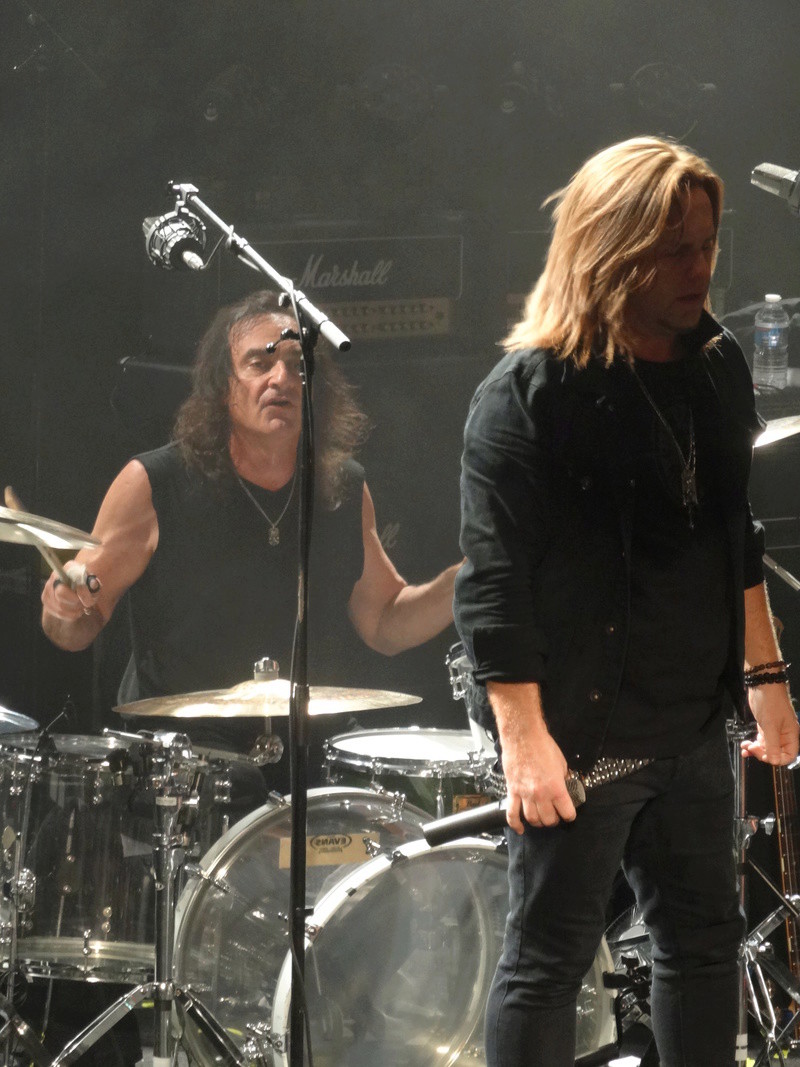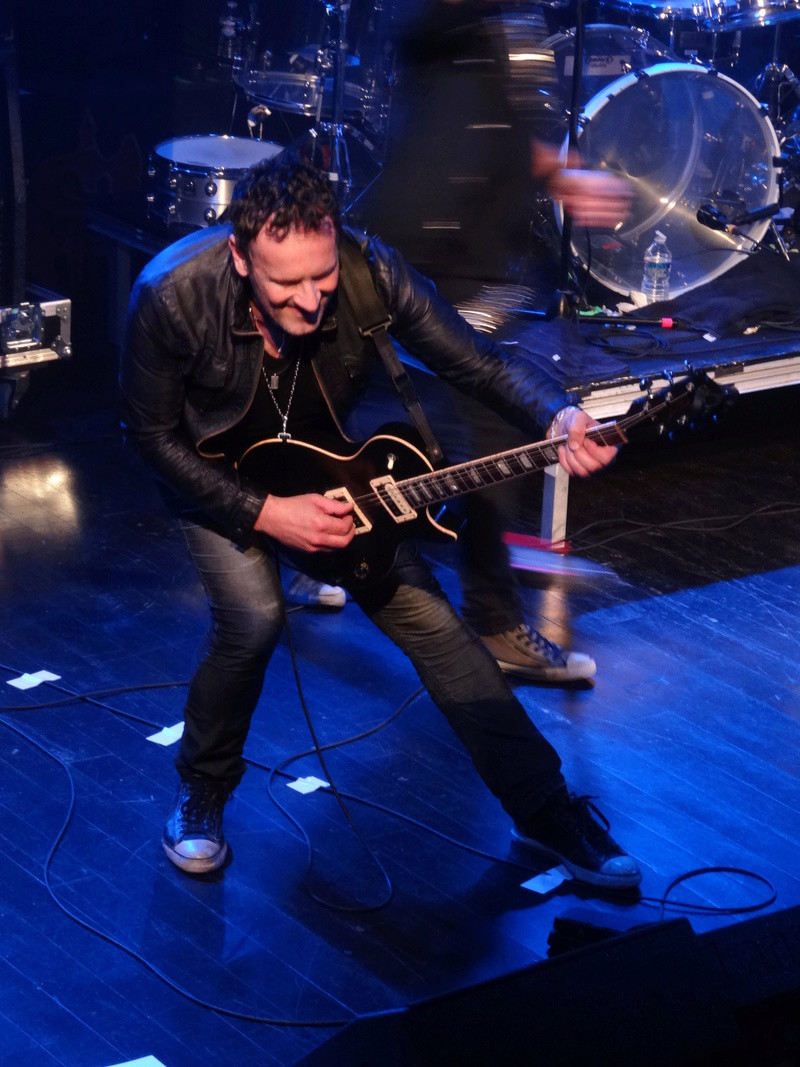 Vous l'avez reconnue ?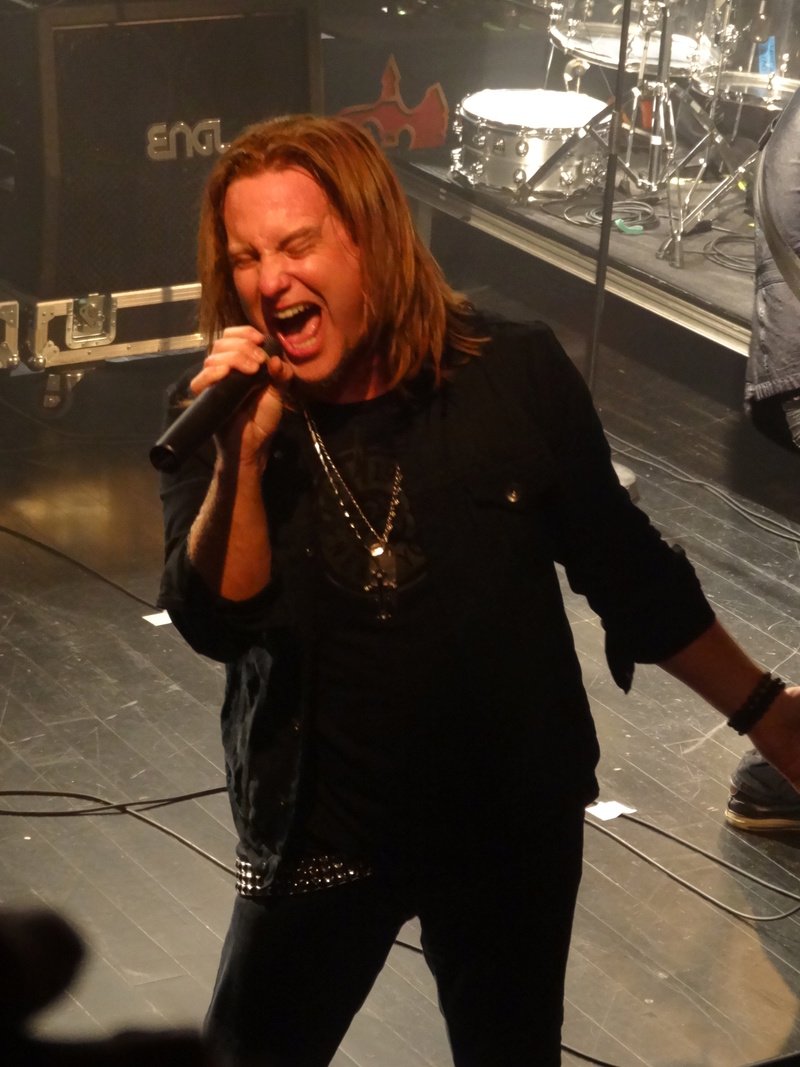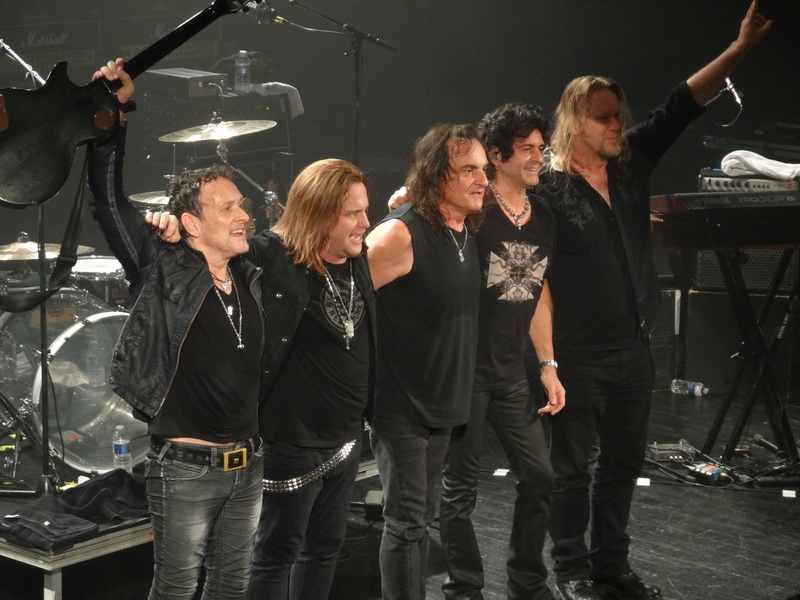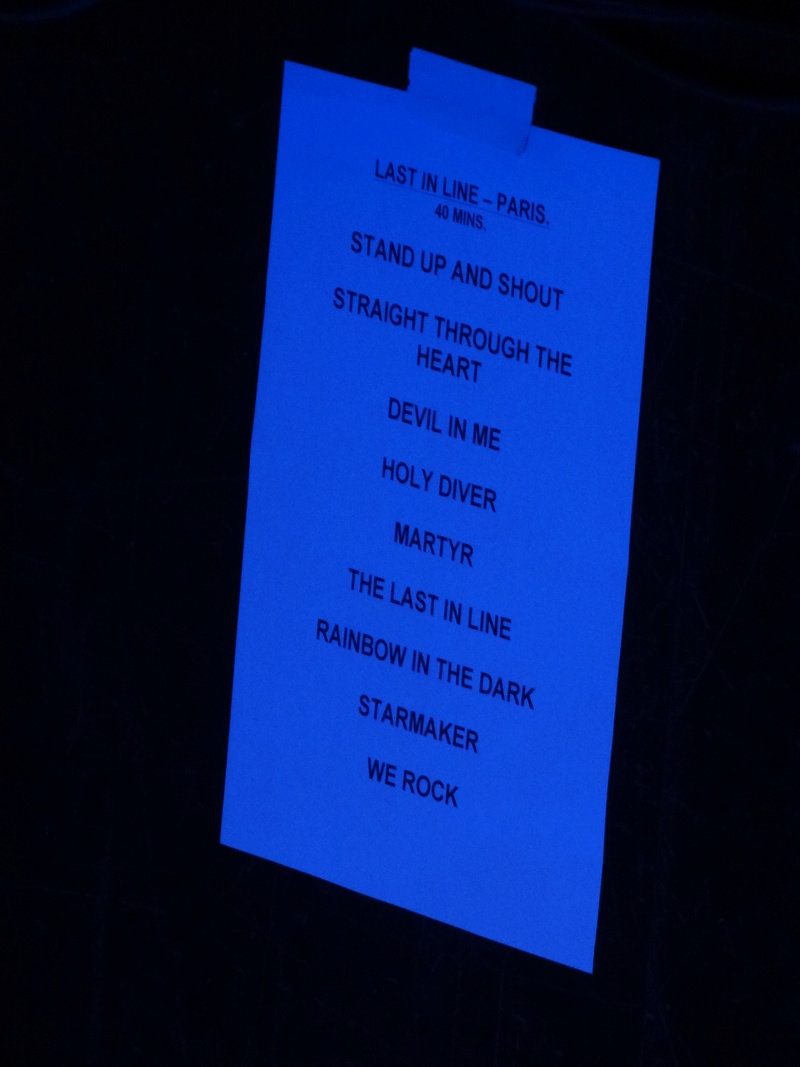 Un set au final d'excellente facture mettant en valeur un groupe soucieux de pérenniser l'héritage du Lutin (pour les néophytes, le "Lutin" était le surnom attribué à Ronnie James Dio). Le quintet quitte la scène du Trianon sous des acclamations particulièrement nourries, satisfait manifestement du show qu'il vient de donner.
Ce qui me fait toujours plaisir durant ces concert, c'est qu'à un moment donné, on finit toujours par rencontrer quelqu'un que l'on connaît. Là, c'est Patrick puis Purplexed qui nous rejoignent, histoire de dire que la fête sera complète.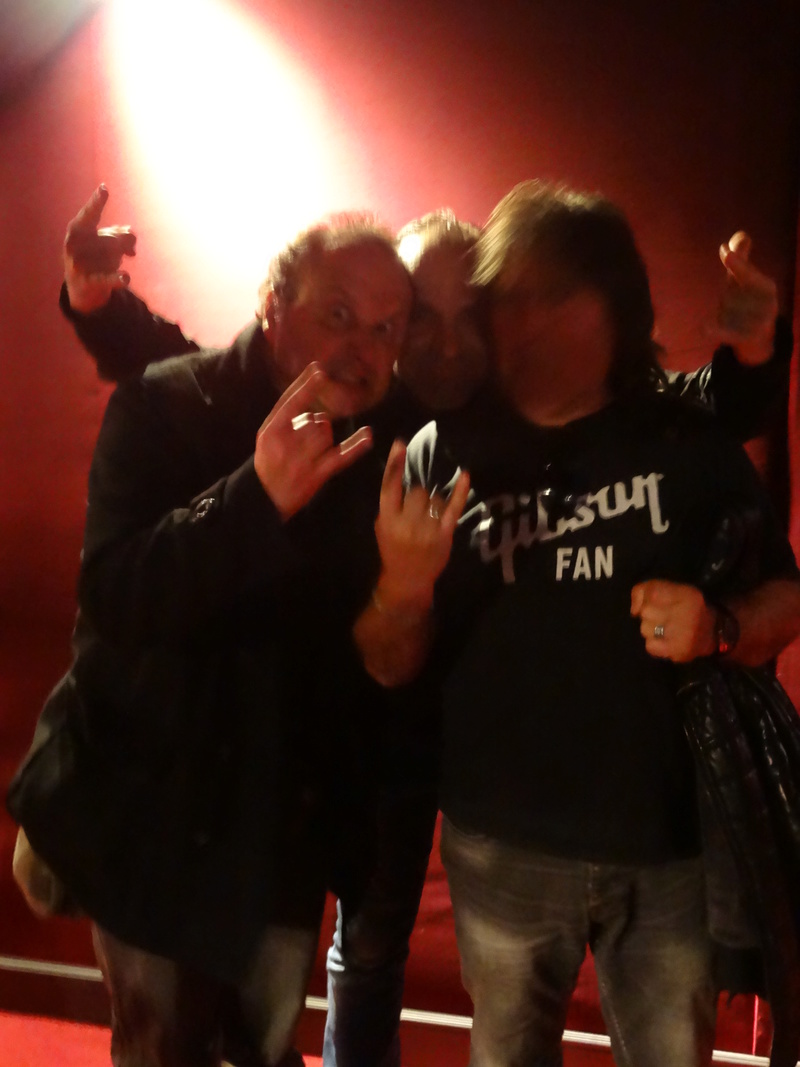 Moi, Ponpon, Patrick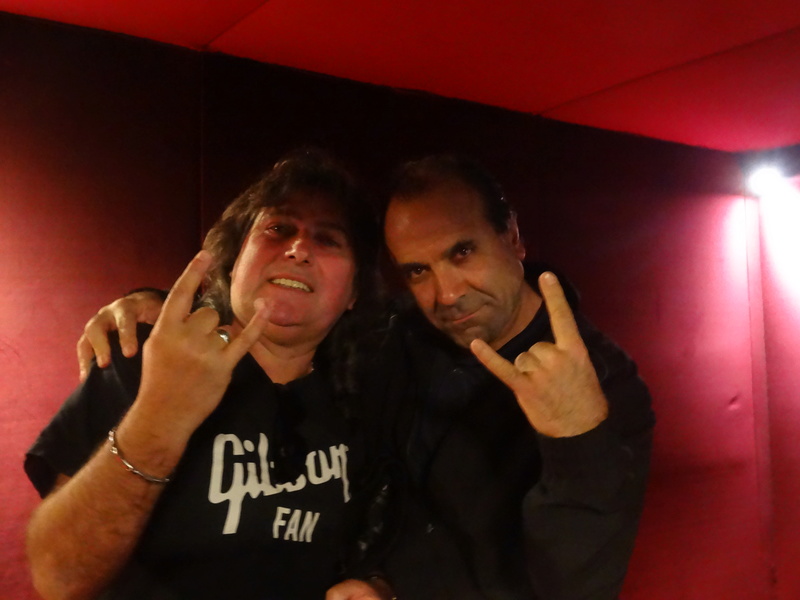 Patrick et Ponpon
Moi, Ponpon et Patrick
Ponpon, moi et Purplexed
Le backdrop est absolument magnifique puisqu'il représente le visuel du dernier album en date à savoir Battering Ram.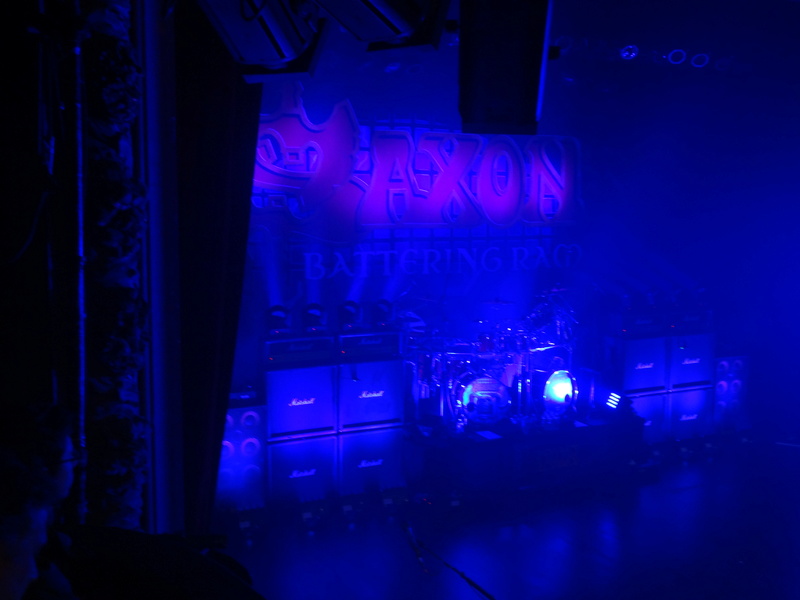 Bah justement, c'est un furieux Battering Ram qui ouvre le show. Puissant, pachydermique et percutant, ce morceau ne fait pas dans la dentelle Et ça continue avec un Heavy Metal Thunder, grand standard du groupe s'il en est, qui, lui aussi vous assomme en quelques minutes. Un fan envoie un drapeau français à Biff qui l'accroche au kit de Nigel Glocker déjà bien déchainé. Rappelons que le groupe avait l'an passé suite à l'annulation du concert de Motörhead liée aux attentats du 13 novembre, édité un tee-shirt spécial "Liberté, Egalité, Fraternité" manifestant ainsi une indéfectible solidarité avec le peuple de France. Ce cadeau de fan n'était qu'un juste retour des choses. Un deuxième drapeau viendra plus tard.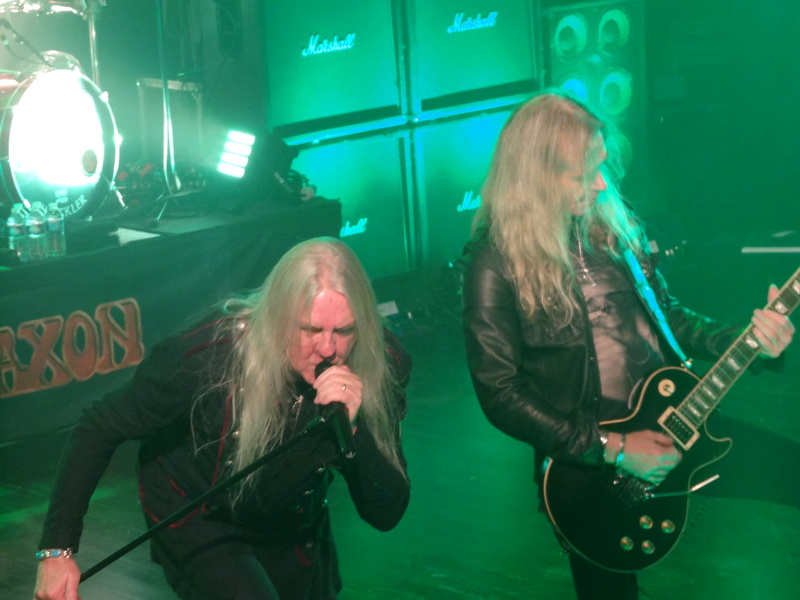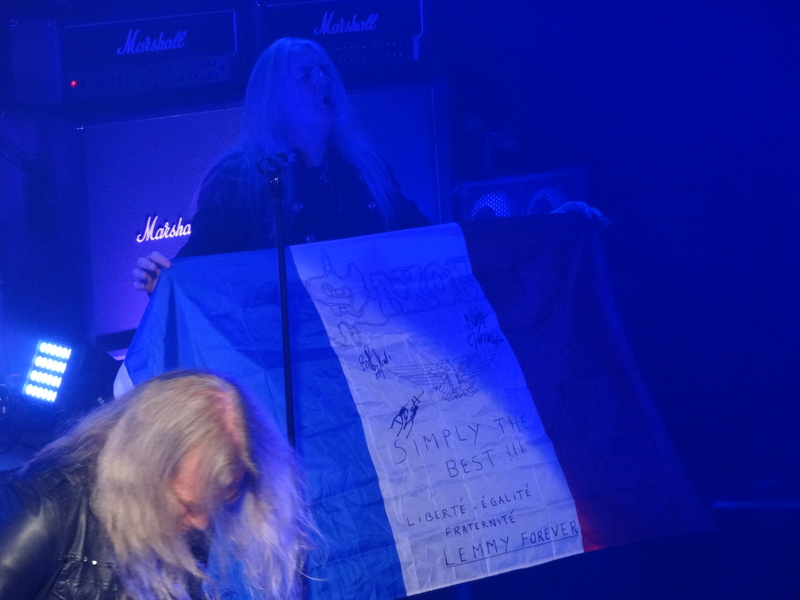 Retour sur du plus récent avec le morceau-titre de Sacrifice, un album que je trouve extrêmement réussi. Paul Quinn et Doug Scarrat sont un peu statiques et ce, en contraste total avec le bassiste Nibbs Carter qui headbangue comme un forcené pendant tout le concert. Quelle santé !!!!!!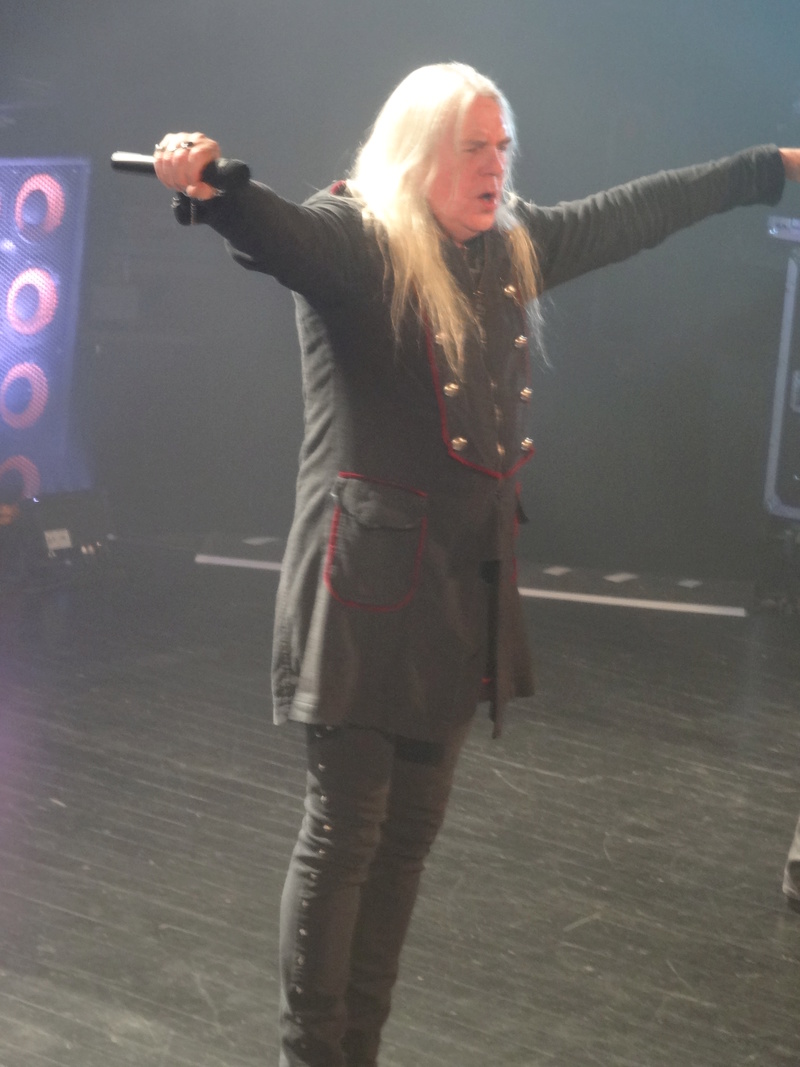 Retour sur du classique avec Solid Ball Of Rock apparu sur l'album du retour du même nom, paru en 1990. Une version carrée et sans fioritures qui fait participer le public qui se fait entendre comme un seul homme. Ensuite, c'est au tour d'un titre plus rare de faire son apparition dans la setlist à savoir Chasing The Bullet extrait de Call To Arms. Bon titre, efficace à souhait mais bon, j'aurais largement préféré un Terminal Velocity d'Unleash The Beast bien plus "carnassier" (mdrrr). Léa, ma fille est dans la même optique. On continue dans le presque inédit live puisque Stand Up And Be Counted de l'album Wheels Of Steel nous est proposé dans une version hyper rapide.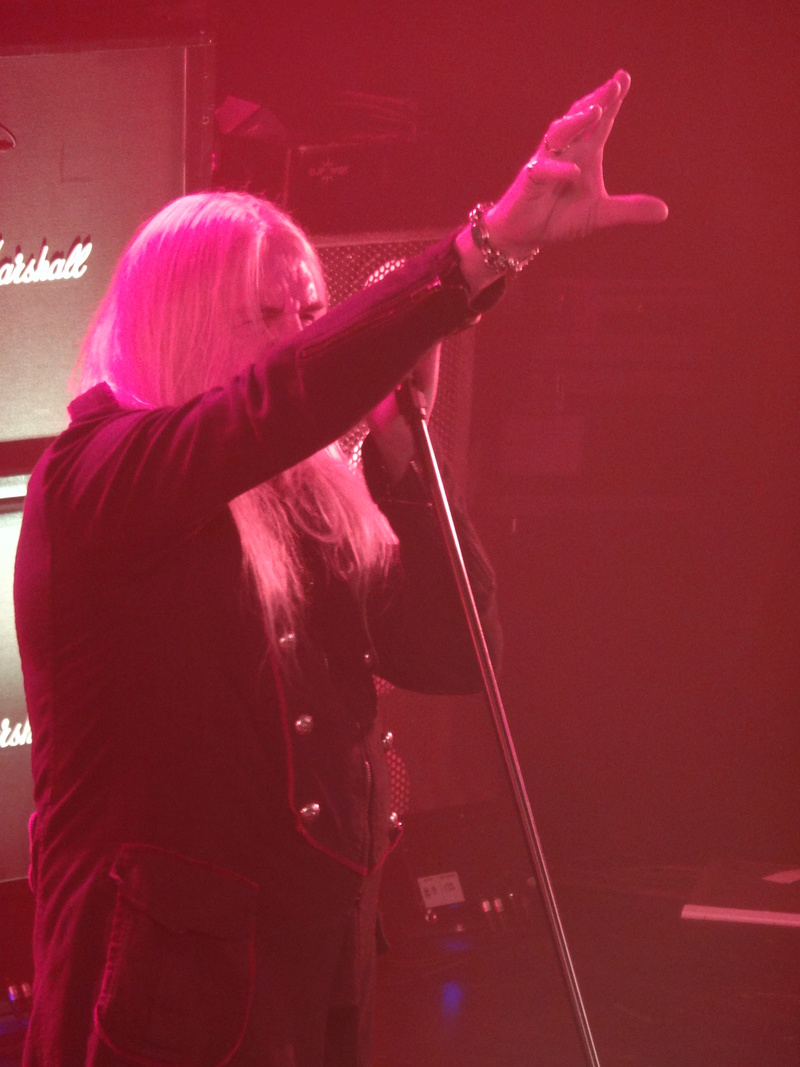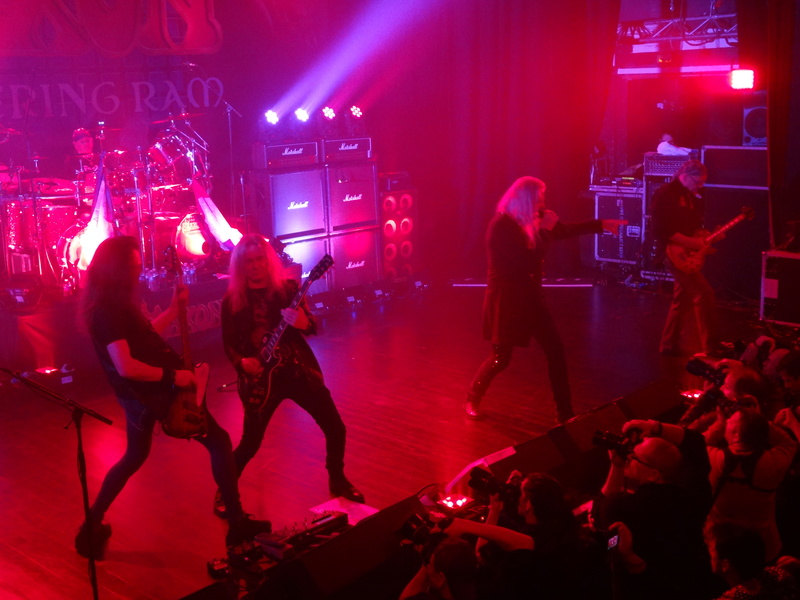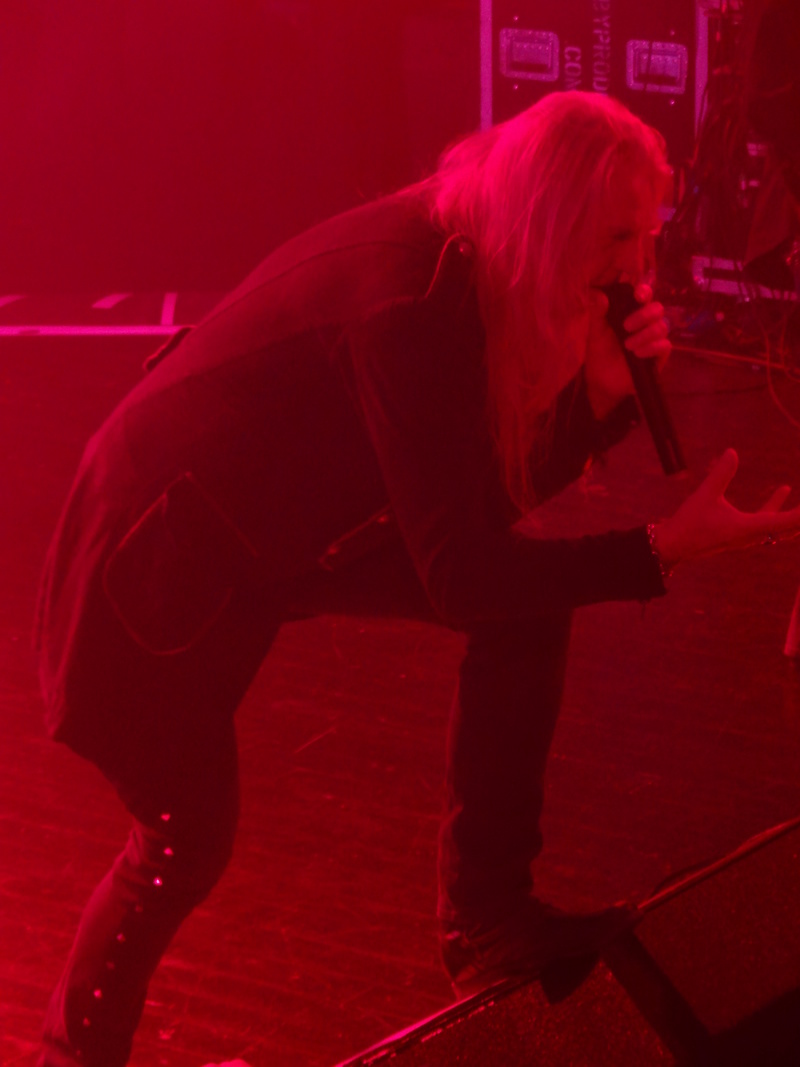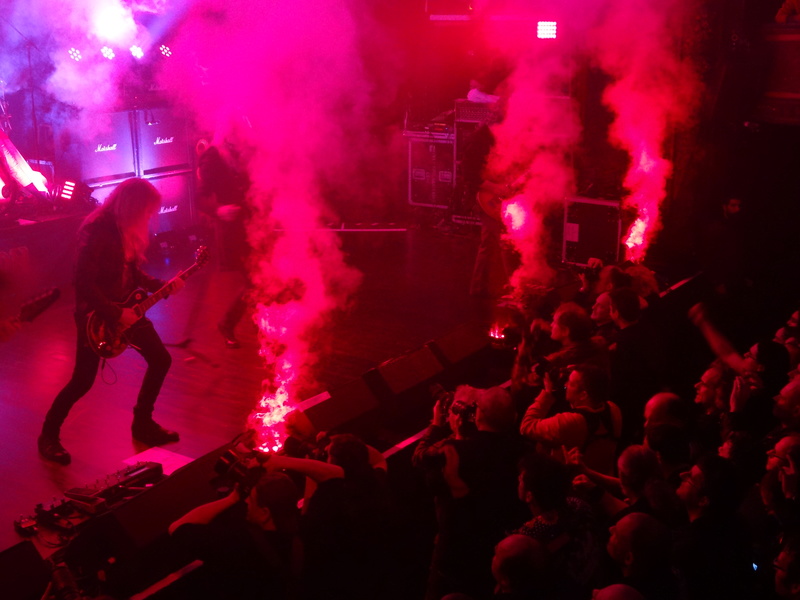 Suit The Devil's Footptint de Battering Ram puis une exceptionnelle version de Strong Arm Of The Law bien plus percutante qu'en studio, un titre-phare du répertoire saxonnien qui, à chaque fois fait mouche auprès du public qui, bien évidemment, réagit au 1/4 de tour. Nibbs Carter et ses intros bourdonnantes de basse  Biff toujours en voix, Paul Quinn toujours aussi fin dans ses soli et Nigel Glocker toujours aussi appliqué dans son jeu de batterie contribuent au succès de ce morceau légendaire.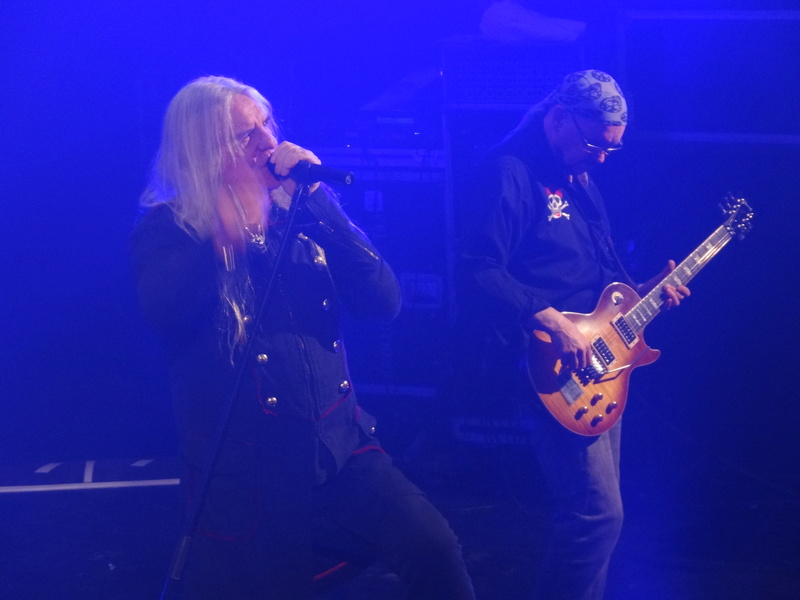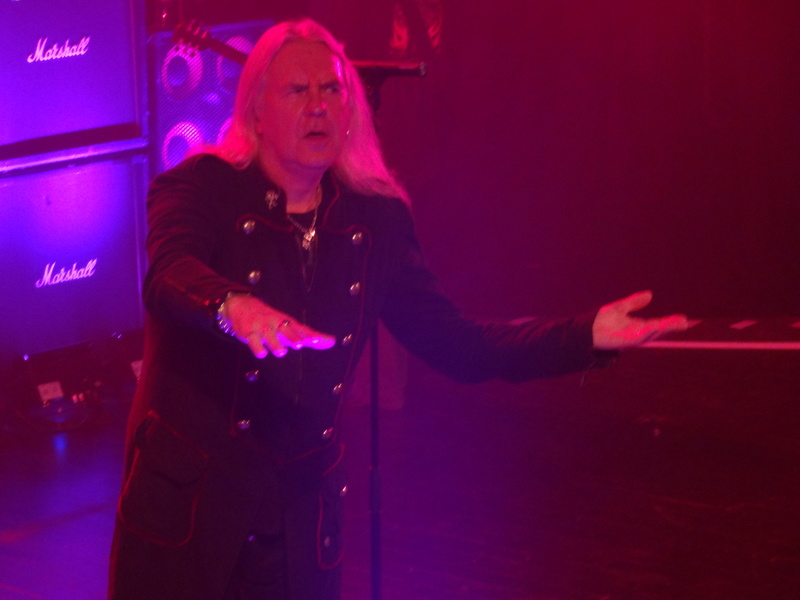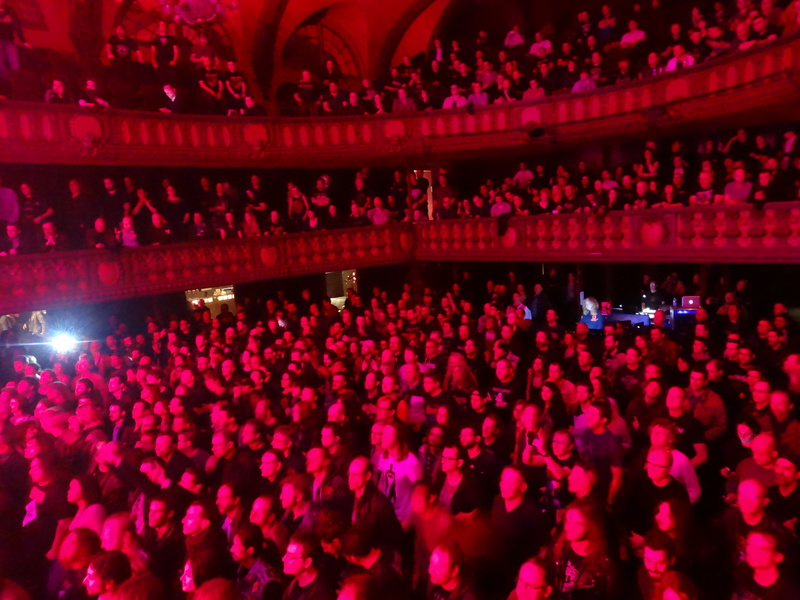 On continue donc sur un Requiem fort émouvant dédié à Lemmy et le très lourd The Eagle Has Landed pour revenir ensuite sur le classique hyper-speedé 20,000 Feet et ce, dans une version incendiaire. Bien évidemment, ça pogote sévère dans la fosse....Mais quelle version, les amis !!!!!
J'aime bien ce nouveau morceau Queen Of Hearts extrait de Battering Ram épique à souhait et ce, grâce à son riff lancinant. Vraiment attachant ce morceau.
On finit cette première partie de concert sur trois classiques imparables : And The Bands Played On (qui relate la première édition du festival de Donington en 1980), Dallas 1pm (qui évoque l'assassinat de JFK) et le standard parmi les standards, Wheels Of Steel où le public déjà très chaud du Trianon répond aux sollicitations de Biff dont on se dit qu'en plus de 35 ans de carrière, sa voix n'a quasiment pas changé. Incroyable quand même !!!!!!!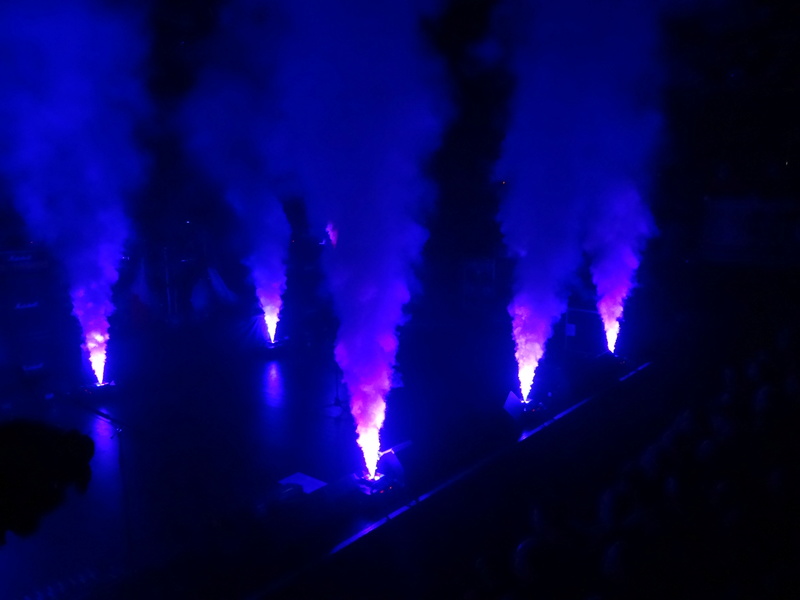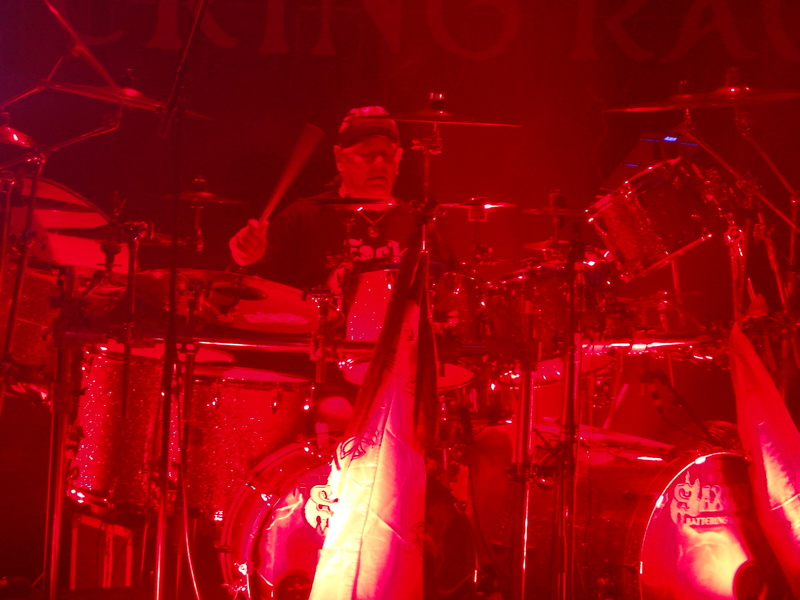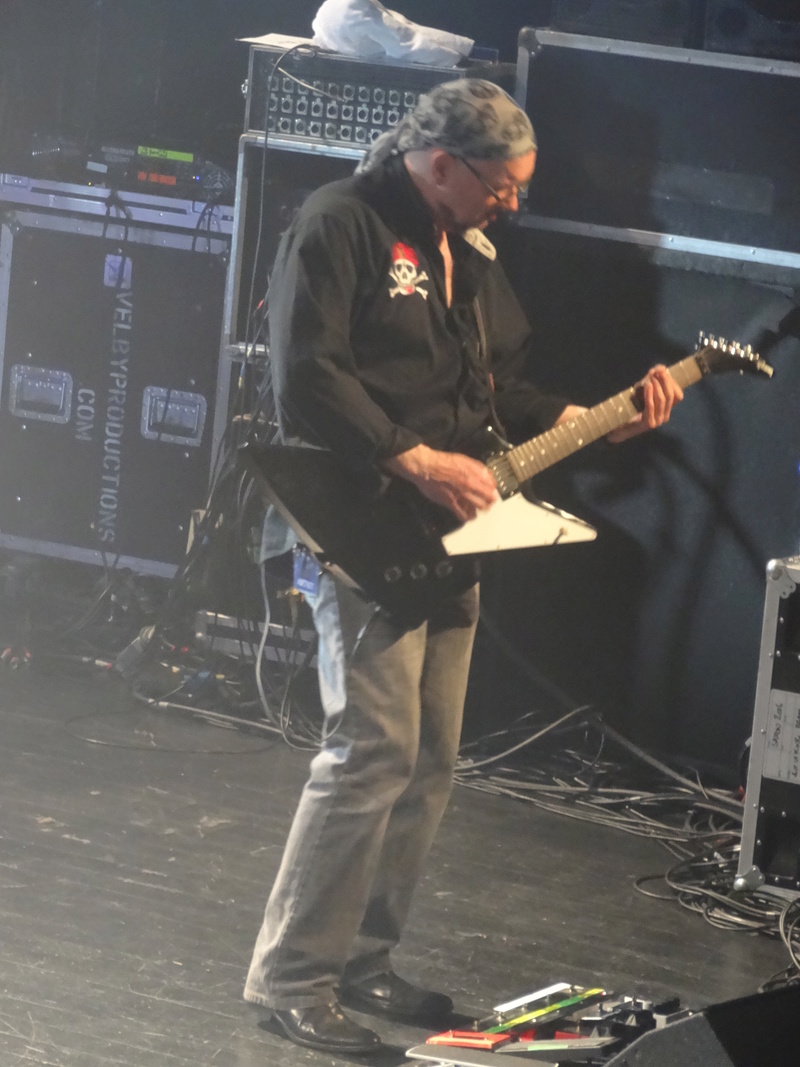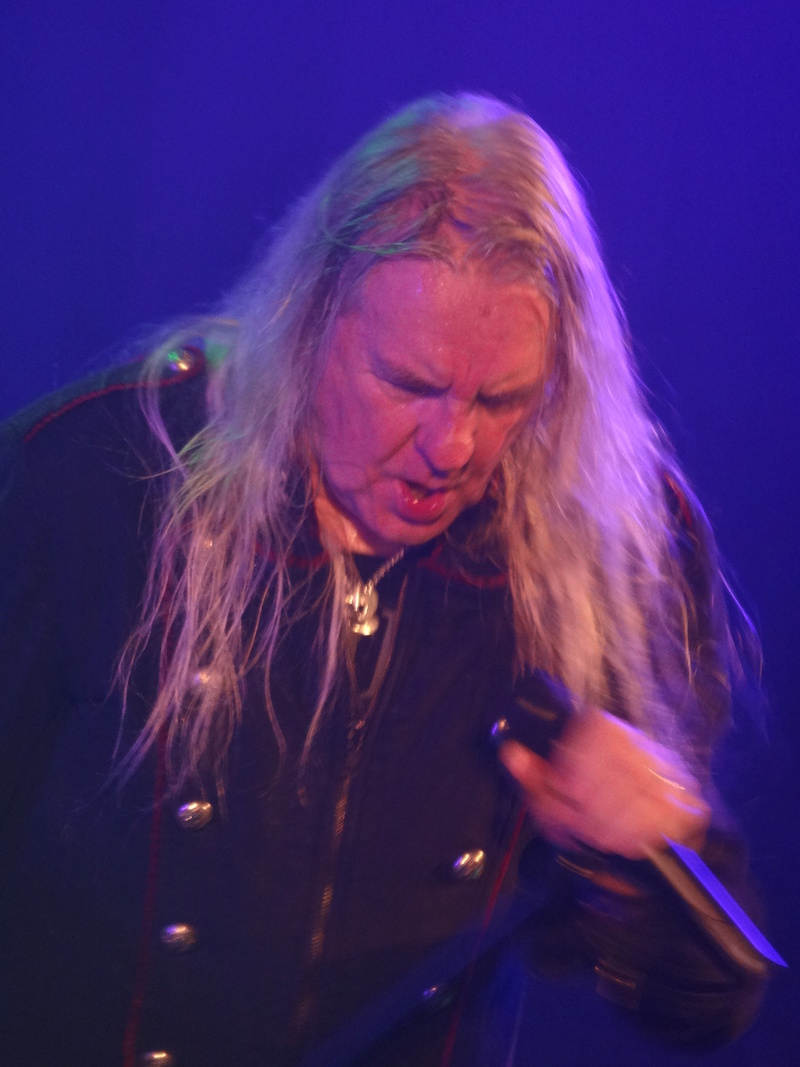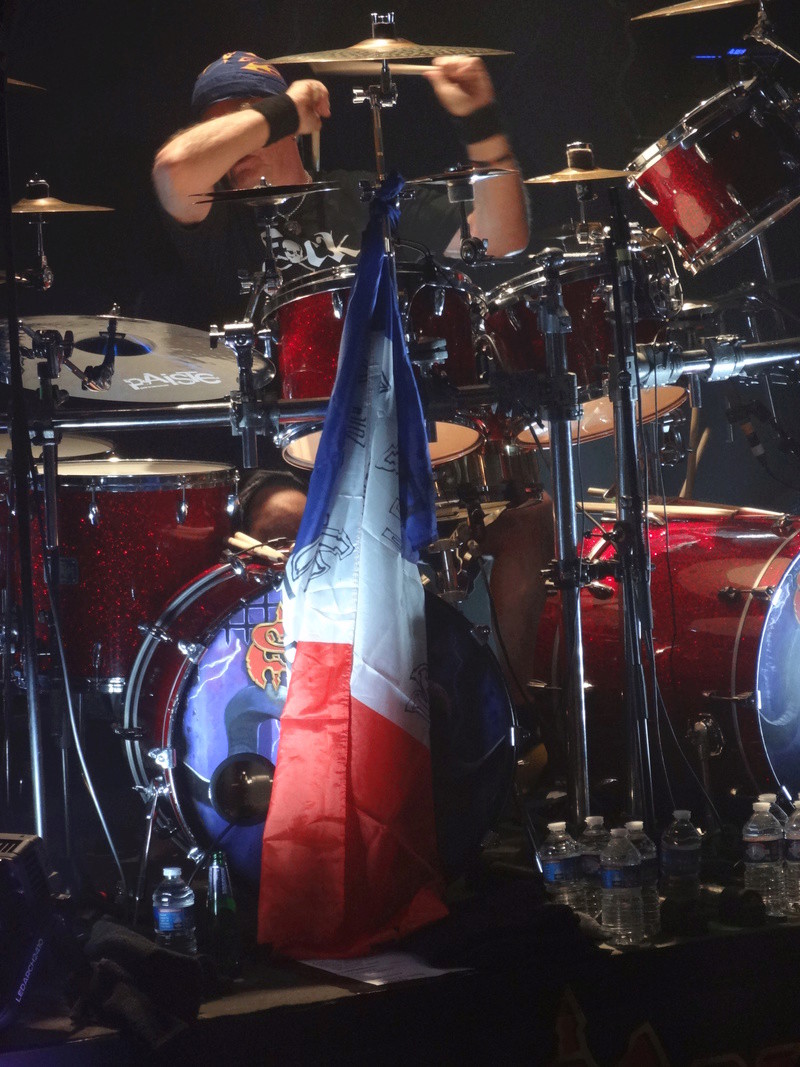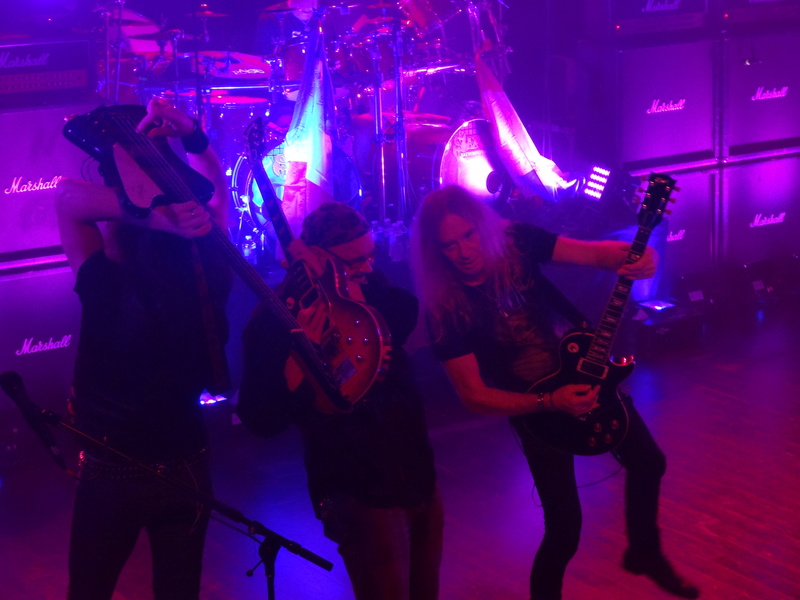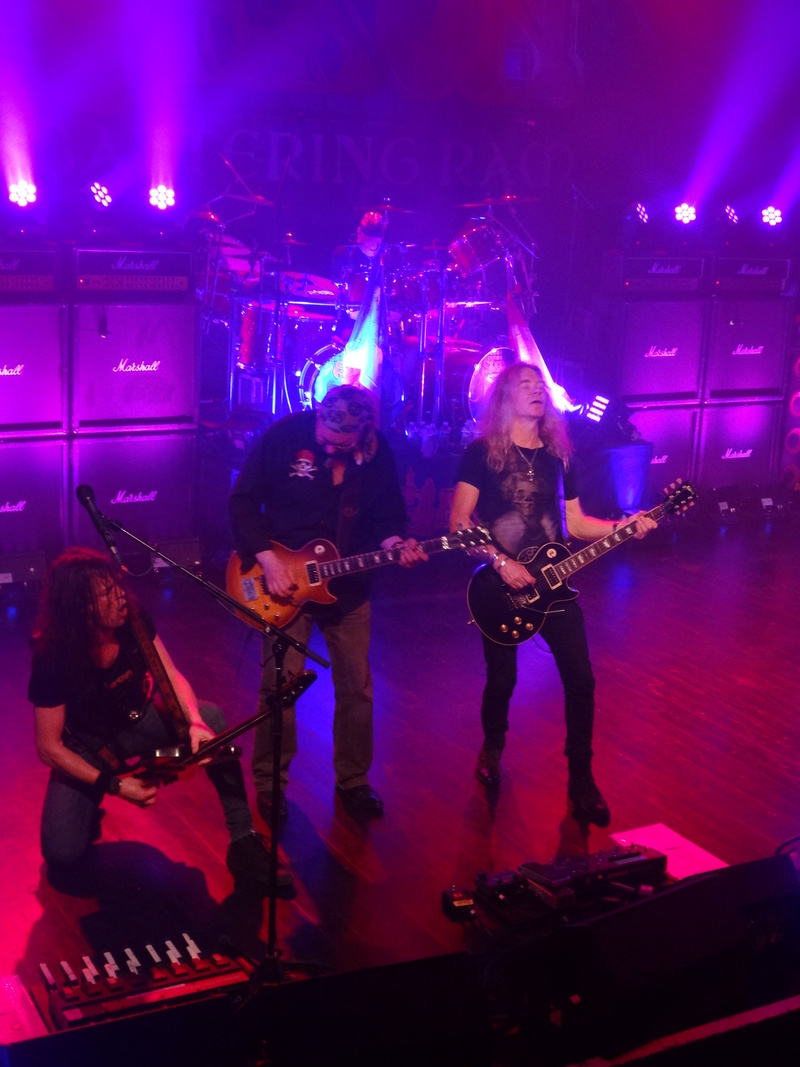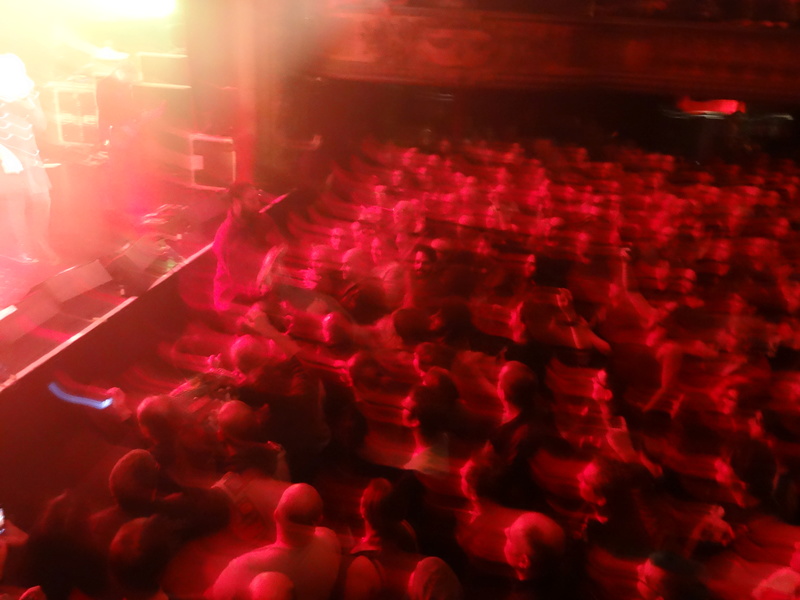 Léa est sous le charme de la musique de Biff et de ses comparses et triste en même temps surtout lorsqu'ils sortent de scène. Ils n'ont toujours pas interprété Terminal Velocity........Ils reviennent pour nous achever avec des versions torrides de Crusader et 747 (Strangers In The Night), repartent sous une ovation nourrie puis réinvestissent la scène pour 2 titres à savoir Denim And Leather et le tube Princess Of The Night repris en choeur par un public complètement "ouf"....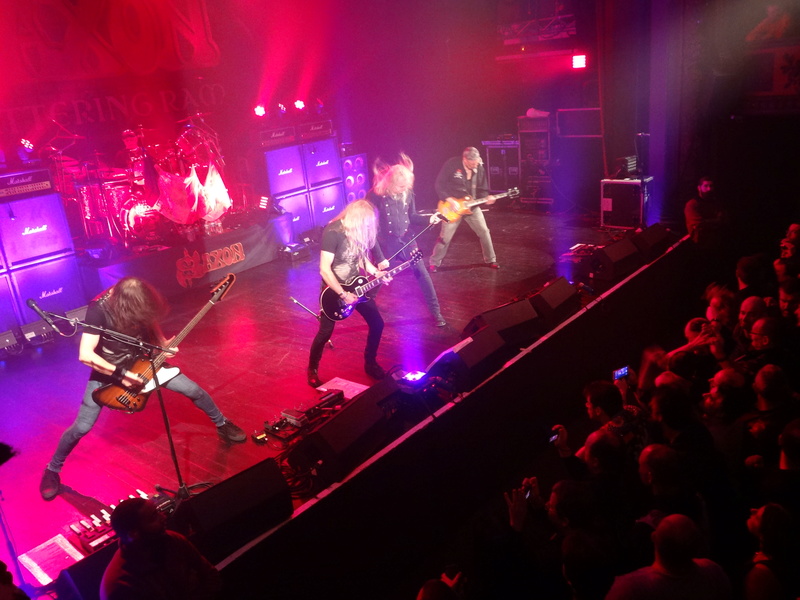 Un super concert d'un Saxon en grande forme dans une ambiance de feu !!!!!! Ca faisait il me semble la 5ème fois que je les voyais et  j'éprouve toujours autant de plaisir à venir les voir. Vivement une prochaine tournée !!!!!!
   It's a Long Way to The Top (If You Wanna Rock 'n' Roll)   
   Battering Ram   
   Heavy Metal Thunder 
   Sacrifice
   Solid Ball of Rock   
   Chasing the Bullet
   Stand Up and Be Counted 
   The Devil's Footprint 
   Strong Arm of the Law 
   Requiem (We Will Remember)
   The Eagle Has Landed 
   20,000 Ft 
   Queen of Hearts   
   And the Bands Played On 
   Dallas 1 PM 
   Wheels of Steel
   Encore:
   Crusader   
   747 (Strangers in the Night)   
   Encore 2:
   Denim and Leather 
   Princess of the Night 
Après cette baffe sonore, nous rencontrons John qui a vu le show depuis les coulisses et qui, il faut le dire, nous a avoués qu'il avait, lui qui n'aime pas trop le métal trop puissant, été bluffé par le professionnalisme de Saxon, de Girlschool et de Last In Line. Steph du BSF est également présent...
John, Purplexed, Léa, Ponpon, François27 et Steph
En compagnie de presque tous les potos rencontrés durant cette soirée mémorable,(Ponpon, François27, John et Purplexed), nous décidons d'aller la célébrer dignement autour d'un doux breuvage houblonné dans une brasserie où devant une assiette de charcuterie offerte par John, nous refaisons le concert avec la passion et l'enthousiasme qui sont les nôtres.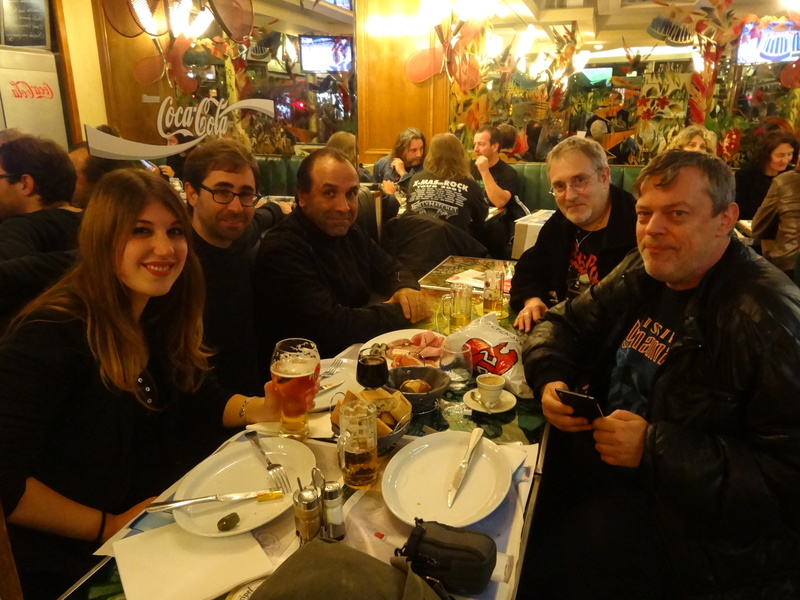 Le retour en Punto s'impose pour certains et c'est dans une ambiance très chaleureuse que je m'improvise chauffeur de toute une ribambelle de potes (en fait deux mddrrrrr) et de ma fille clôturant ainsi une soirée parfaite.